3 lifelong friends (Tony, Nate, and Anthony) and self-proclaimed music nerds discuss all things music. Podioslave Podcast is a podcast for music nerds.

Episodes range from commentary on the current music climate (touring, music business, etc), deep dives on specifics bands and albums, and interviews with folks from all walks of the music industry. We nerd out on seeing live music, collecting music, and studying the music industry. No genre is off limits; however, you'll likely hear us discussing rock, hip hop, metal, etc. #nerdery.
------------------------------------

311 | A Loss for Words | The All-American Rejects | Amen
Anthrax | August Burns Red | As Friends Rust | Be Well
Bleeding Through | Blood Has Been Shed | Buckcherry 
Chronic Future | Currents | Deftones | The Distillers | Far 
Fit For A King | Freewill | Further Seems Forever 
The Gaslight Anthem | Godsmack | GWAR | Half Me
Hatebreed | (Hed) PE | Incendiary | Killswitch Engage
Koyo | Lybica | The Movielife | onelinedrawing | Out of Service
Plain White T's | Primer 55 |Quicksand | Sepultura | Sevendust 
Shadows Fall |Sparks the Rescue| Spose | Sunsleeper | Taproot
Terror  |Thursday | Trawl | Frank Turner | Unwritten Law | The Urge
The Wonder Years | The Workhorse Movement | The World
Zebrahead
------------------------------------

United States of America: Peak Position: #44
Belgium: Peak Position: #29
Canada: Peak Position: #19
Colombia: Peak Position: #1
Croatia: Peak Position: #3
Denmark: Peak Position #10
Finland: Peak Position: #1
France: Peak Position: #29
Germany: Peak Position: #9
Ireland: Peak Position: #3
New Zealand: Peak Position: #2
Russia: Peak Position: #14
------------------------------------

Episodes have been featured on Chorus.fm, Loudwire, Blabbermouth.net, Metalinjection.net, Guitar.com and more!
Episode 147 - 20 years of Thrice - 'The Artist in the Ambulance' w/Producer Brian McTernan (Be Well,Battery) was picked up by Chorus.fm
Episode 144 - A Conversation with Jeffery and Cody of Sunsleeper was picked up by Chorus.fm
Episode 115 - Interview with Jesse Leach of Killswitch Engage was picked up by Metal Injection and Ultimate-Guitar.com
Episode 111 - Interview with Sergio Vega of Quicksand (formerly of Deftones) was picked up by Loudwire and Guitar.com
Episode 110 - Interview with Casey Cavaliere of The Wonder Years (Guitarist) was picked up by Chorus.fm
Episode 103 - Interview with Vinnie Caruana of The Movielife/I Am the Avalanche was picked up by Chorus.fm
Episode 99 - Interview with Benny Horowitz of The Gaslight Anthem (Drummer) was picked up by Chorus.fm
Episode 94 - Interview with Brian Fair of Shadows Fall (Vocalist) was picked up by Blabbermouth.net and Metalinjection.net
Episode 92 - Interview with Tucker Rule of Thursday (Drummer) was picked up by Chorus.fm
Episode 75 - Interview with Nick Wheeler of The All-American Rejects (Guitarist) was picked up by Chorus.fm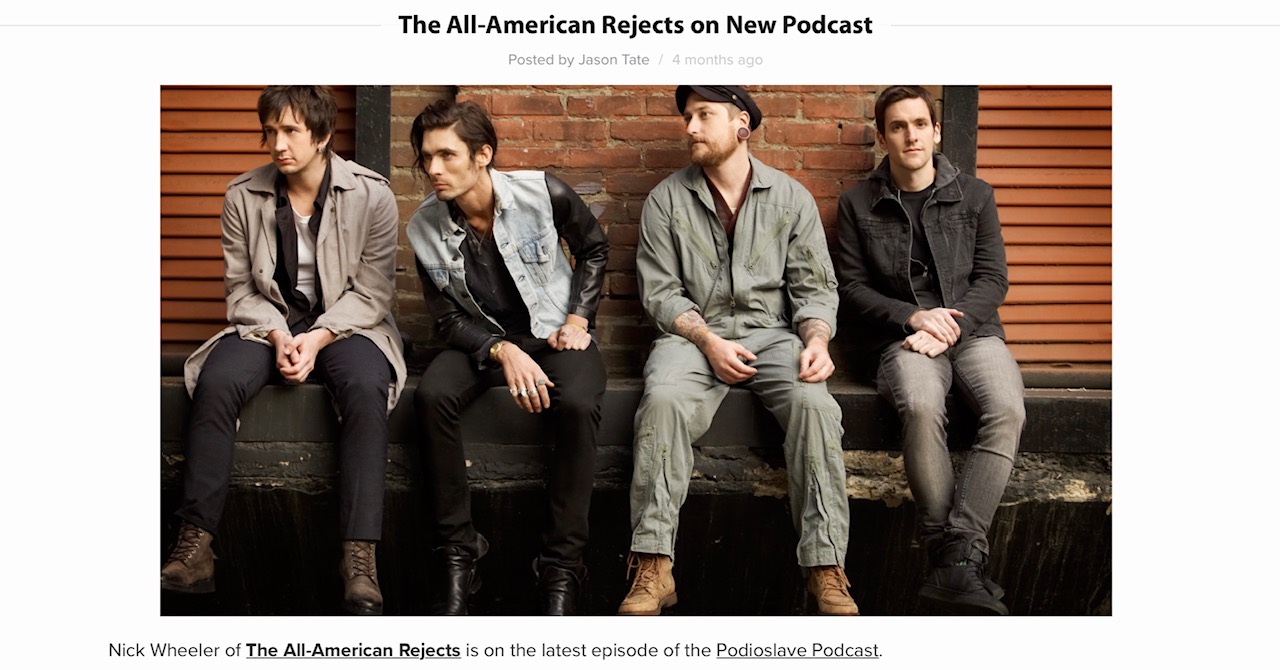 Episode 11 - Interview with Scott Russo of Unwritten Law (Vocalist) was picked up by Chorus.fm